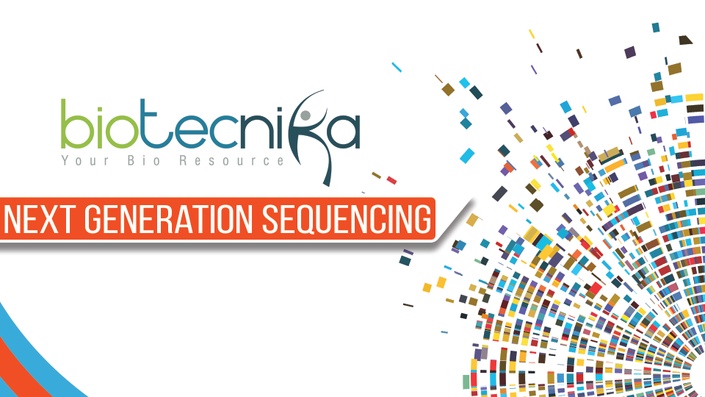 Next Generation Sequencing Online Certification Course
Learn Everything About Latest NGS Technique
The number of technologies from which our knowledge of molecular biology stems, is growing increasingly large. It must be difficult for scientists coming into the field as well as practicing molecular biologists, to keep abreast of current advances.
So, to match the pace, BioTecNika launches a 14-Day, Self-Learning Course from 25th August 2018, highlighting Next Generation DNA Sequencing.
So what exactly is Next Generation DNA Sequencing? A recently evolved, high throughput technology which has revolutionized the biological sciences. Is it even better than Microarrays???
Yes…
No requirement of prior knowledge
Offers single-nucleotide resolution
A higher dynamic range of signal
Requires less sample (nanograms)
Higher reproducibility
It holds the potential to provide important clues in the quest for the treatment of various life-threatening diseases; improved crop varieties and other scientific problems related to human welfare.
Starting from the basics of the human genome, the course will highlight on the fundamentals of NGS library preparation, parallel techniques involved in sequencing and even take you through data interpretation and analysis.
If you are an aspiring researcher, academician or a student, this is the golden opportunity to learn about this technology, glance at the research prospects in this avenue, and become aware of career opportunities in this field. Get the participation certificate (hard copy as well) and highlight your new skills on your resume.
The additional benefit to students enrolled for BioTecNika's one-year CSIR NET coaching… You can avail NGS 14-Day course absolutely free. Still in doubt? Dial the numbers 080-5099-7000 or chat with us Let us walk through the age of technology together...
Duration: 14 Days Course ( 1.5 Hour Per day )
Mode of Workshop: Online
Instructors: Senior BioTecNika Experts: Dr. Prabhakaran Ravichandran, Dr. Rashmi Sanyal, Dr. Priyanjana Ghosh, Dr. Preeti Saini
Who must attend:
Students in their B.Sc / B.Tech / M.Sc / M.Tech who aspire to work on cutting-edge research technologies of the FUTURE
Certification: All participants who attend this workshop will get Course Participation Certificate Hardcopy
NGS Advanced Course:
All the Participants who attend the Basics course will be eligible to apply for NGS Advanced Certification Courses by BioTecNika & Rasayanika
Your Instructor
Shekhar Suman is the CEO & Managing Director of BioTecNika Info Labs Pvt Ltd, An avid reader who is passionate about Bio Sciences and has gifted us BioTecNika